Bands Get Creative To Battle MySpace GlutFrom After School YouTube Lessons To Cell Phone Networking, Bands Try New Ways To Capture Fans.

From brit pop to hip hop, music is more diverse and easier to reach than ever with bands populating online social networking sites in the tens of thousands.

So how do bands battle the MySpace glut?

From after-school YouTube lessons to mysterious maps of the universe and cell phone social networking, bands are trying out new ways to connect to fans.

We talked to signed and unsigned bands and solo artists from across America to find out how just how unique marketing and promotions have to be to get new listeners interested.

Gerhard Enns of the Fresno/Bakersfield-based band The Dalloways said, "Making music is the easy part. Marketing is the hard part. It's like a jigsaw puzzle, trying to figure out how to get it to people."

The Dalloways have taken the marketing aspect of their music into an entirely new realm. They launched a YouTube after-school special with their keyboardist Cortnie Cleary titled, "Cortnie Cleary's After School Lessons."

Cortnie Cleary's After School Lessons: Melodica Maestro

The short 30-50 second YouTube clips are a tongue-and-cheek approach to simple lessons on topics that range from how to play a melodica to how to look cool at a party and how to peel an orange.

Tagged with Cleary's persona from the band, each episode offers a fun diversion to simply attracting people to the band via music. "It's actually easy and fun to do," Cleary said. "And people need to learn!"

Enns added that marketing on YouTube centers around their new e.p. "Dirty Money and Filthy Love," and leads up to the release of their second full-length album, "The Distant Fairs," later in 2008.

KiNo is the kind of U.K. indie solo artist in America you'd hope to find at a late night bar in New York, not necessarily performing, but philosophizing.

He might be sipping a drink, participating in a semi-serious dialogue, or discoursing on every topic imaginable, including his artistic marketing idea he calls, map of the universe: a unique online tool where fans can only get information on him if they sign up via the Web.

Not considering himself a musician but rather a man of ideas, KiNo's unique approach to reaching a fanbase turns the idea of the Internet's over-saturation of total information inside-out by purposely being vague and mysterious.

Prior to the recent release of his album, "Map of the Universe," KiNo did what most bands would never dream of doing. He threw away a potential fanbase of 50,000 iTunes subscribers.

That may seem crazy to most bands. An iTunes subscriber list of such numbers would have been a gold mine of potential fans for most bands to market their debut album, but not for KiNo. That's because while it's easy for bands to build profiles and upload music, it's tough to reach music lovers and build a fanbase without social networkers assuming they're being spammed.

So why did he do it?

"Now being in the process of presenting the music live and the self-release of my record, I switched to a mode of reservation and mystery." KiNo said.

If misery loves company, then according to KiNo, so does mystery.

Having developed what he considers a new mode of communication, KiNo said, "My website, www.kinomapoftheuniverse.com is shut down to the public unless they join the mailing list and start receiving the public announcements that feature special new content. The word spreads quickly and it only brings people who are curious to locate themselves..."

Robert Wayne from the New York indie pop trio, We The They, agrees with the idea that marketing bands to today's fans requires an air of mystery. "If there is little mystery, then there is little appeal," he said.

But that's not all. Wayne said that fans nowadays have short attention spans, so Web sites must be simple and sort of interactive playhouses for the mind. "There was a time when a large piece of Oak Tag paper and glitter were the main ingredients to promoting. Nowadays, even band websites went the way of the dinosaur. MySpace has music, and the majority of those who make it, in its palm. In order to swim above the countless bands on MySpace, your profile needs to be a sort of playhouse. Think … a primary level classroom. We want to find the folks with the smallest attention span and get them hooked."

We The They are part surfer band, part campfire song makers. They are endorsed by JACC Clothing and are the unsigned indie flagship of Wilson Brothers Venture Guitars, a company founded by the Ventures, a surf band popular in 1960s.

The Ventures are creators of the song "Hawaii-Five-O" and credited with much of the surf sound. They're inductees into the Rock and Roll Hall of Fame as of March 2008.

While West Coasters might suggest We The They have a pop OC style with happy surf-sounding guitar riffs, Wayne said the band is considered to have a New York "Hudson Valley" sound. "So we went with this and took it a step further by touring campgrounds along the East Coast, embracing the campsite culture we often speak of in our songs," Wayne said. "Our MySpace activity tripled during this time."

But is reaching fans just about being endorsed by guitar and clothing companies?

Wayne said all of We The They's music, CDs and select merchandise are free. "We go with the buy one get three free approach. It costs us a great deal, but we chalk that up to promotion."

Sometimes reaching fans also means taking the music to the people by surprise. "We have played several surprise shows in rural clearings and crowded city parks," Wayne said. He joked, "It attracts a nice crowd before being broken up by the local police."

LA hip hop group Deziak Clan may have a gritty and sometimes controversial sexual edge, but they're good at taking their album "Ghetto Gumbo" to the people via the streets and endorsement deals as well as MySpace.

With a target demographic age of 16 - 48, their Black and Latino styled music is marketed to specialty shops as well as spread via house parties that they attend. "We attract fans by being so real that we go to regular house parties and chill. A lot of times it gets some of us in trouble but we are really accessible," Emery Morrison A.K.A Emery Finagler, Deziak Clan's emcee said.

To promote their gutter-urban street-edgy rap they also utilize an endorsement by Ku Soju, a liquor company owned by Anheuser-Busch, and by advertising in large market publications like the LA Times and New York Times.

Morrison added that while Deziak Clan hopes to achieve the stardom of Prince, Tupac or Marvin Gaye, his group believes such success can only come from having a successful business model that attracts music consumers. "Our business goal is to successfully brand products associated with us to the highest profitable level possible. Deziak Clan is not a band we are an edgy emotional music brand with our fingers on the pulse of the streets."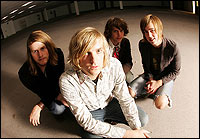 Bakersfield-based EMI sub-label Credential Recordings band Lost Ocean are trying living room tours and cell phone MySpace strategies to create fan loyalty.
Taking a break from touring, the band writes songs in an abandoned trailer at a Bakersfield area church. Having toured across America to promote their debut self-titled album, they've found that being signed doesn't always mean easy success.
Lost Ocean will soon be offering living room tours that California fans can win. They'll have lunch with fans and get to know them in an entirely new way. They've also joined the SayNow.com phone program, which links phone messages to the band on their MySpace when fans dial 661-349-7206.
Bands like the Plain White Ts and solo artists like Alicia Keys and 50 Cent all use SayNow's cell phone social networking tool. Lost Ocean Keyboardist Skyler Johnson said, "We'll get the message and it will show up on our MySpace and we'll actually call you back…It's really cool because fans only normally get to talk to you if your coming to their town…it's a really great marketing tool."
Lost Ocean is currently working with a new producer as they create at least one new song per week over the next six months for their upcoming second album. In the meantime, they want fans to keep calling them.